By
CAROLYN STEBER
https://www.bustle.com/p/9-shocking-facts-you-never-knew-about-hypnosis-9097676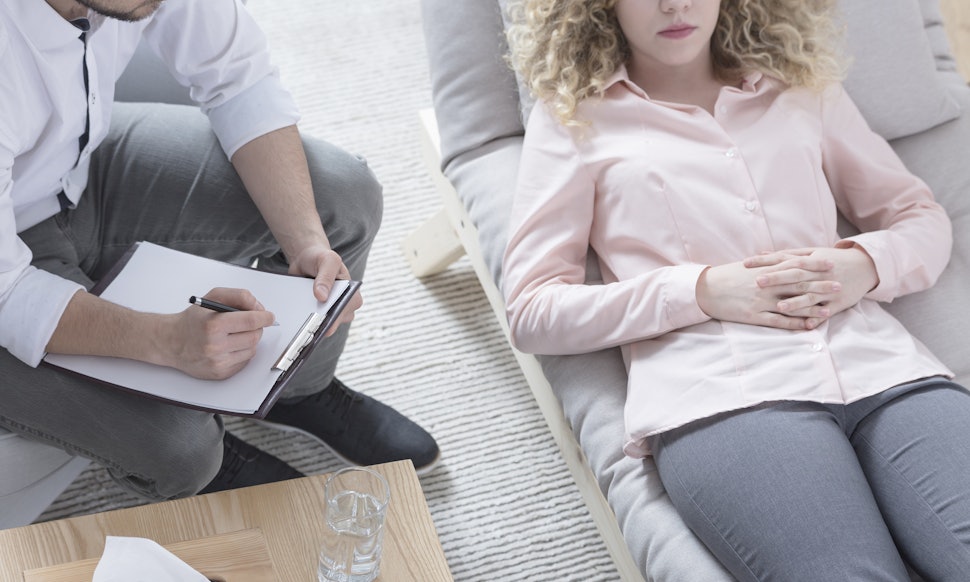 Photographee.eu/fotolia
We've all seen hypnotists portrayed in movies, as they swing gold pocket watches and whisper, "You're getting sleepy. Very sleepy." But did you know hypnosis is used in therapy? When it's utilized by trained hypnotherapists, patients can use hypnosis to recover from trauma, move past addictions, and just generally improve their lives.
Despite the fact it can seem a bit scary, or like some form of magic, the way hypnosis works is actually quite scientific. "People are induced into a relaxation state, or alpha brain wave activity," Edie Raether, MS, CSP, a hypnotherapist and behavioral psychology expert, tells Bustle. "It is a meditative state where the client is more open and receptive due to being relaxed."
Once in the relaxed state, the hypnotherapist can begin to work with their patient on whatever it is they'd like to improve. "There are two types of hypnosis: suggestive and exploratory, which is very effective for PTSD (post traumatic stress disorder)," Raether says. "Unconscious and buried experiences rise to the surface and are expelled, allowing people to experience immediate healing."
It works because the underlying issues are identified, and then addressed. As Raether says, "In the right hands, with a reputable, experienced therapist, it truly is the most economical and effective way to change any behavior, including academic and sports performance." Here are a few more interesting things that can happen during a hypnotherapy session, according to experts.
1. 

Your Consciousness Will Be Altered
"Hypnosis is a dissociative process; an altered state of consciousness," hypnotherapist Darlene Corbett tells Bustle. "What happens in the brain occurs as it does during a daydream."
Once a person enters this relaxed, dreamy state, the hypnotherapist can begin to address their underlying concerns. "Hypnosis is focused attention," Corbett says. "Because of its ability to focus, one can tap into so many areas of empowerment they do not realize they have."
2. 

You Technically Hypnotize Yourself
Even though it may seem like the hypnotherapist is doing all the work or "making" someone become hypnotized, it's actually the individual who is allowing themselves to relax.
In reality, "all hypnosis is 'self hypnosis,'" Anthony Gitch, RHT, of Excel Hypnosis, tells Bustle. "It is not something that is done to you. It is a balanced dance with the therapist following where the subconscious mind leads, and then leading the subconscious mind towards profound internal insights." Pretty cool, right?
There is no one "right" way to feel during hypnosis. Either "hypnosis doesn't feel like anything, or you may feel really heavy, or you may feel really light," says Gitch. "It really doesn't matter, because it is your experience and you will experience exactly what you need to experience."
4. 

You're Not Being "Mind Controlled"
One thing that might come as a relief to people who want to try hypnosis is that it may be a strange experience, but it's definitely not mind control. As Gitch says, "A hypnotist cannot make someone do something against their will." You're still you, and thus in complete control of your faculties.
5. 

You Might Experience Changes In Just One Session
You can, however, experience visible changes once you leave. As Raether says, "85 percent of the people I see for smoking quit after one session." But that level of success only works for people who allow it to work.
"If people are just hanging in there and need to hold onto their defenses to cope and function, then it is not wise" to try hypnotherapy, Raether says. "If people are emotionally fragile, I would not do exploratory hypnosis and bring more up, which may be more than they can deal with." Instead, Raether says she would help a client build up their confidence and resilience, before trying to hypnosis. That way, they'll be better able to handle whatever it dredges up.
Let's say, during hypnosis, you want to forgive someone who hurt you int the past. "During forgiveness work, clients are instructed 'to be' the offender," Gitch says. "This can be unnerving when the clients face and change as they become the person who hurt them." It can be upsetting at first, but it's all part of the process.
All of that can come up in therapy. But it's a good thing. As Smith says, "Through hypnosis, the smoker can reframe these unconscious urges. First, [they] would examine why these automatic thoughts were there to begin with. And then, the smoker could begin to delete, update, or replace them with more positive associations. In other words, the positive thoughts get pushed to the front of the unconscious and they drown out the old way of the thinking. That's why hypnosis works. It helps you get to the root cause of your habit or fixation."
8. 

You Can Reprogram Yourself
As clinical hypnotherapist Traci Blank, FIBH, CMS-CHt, CPC says, there are three parts of the mind: the conscious, subconscious, and superconscious. And in between the subconscious and the superconscious is the "critical factor."
"During hypnosis, we open the critical factor to access the subconscious," Blank says. "So hypnotherapy is really just the process through which we access the subconscious mind to uncover the beliefs that exist there and alter the programming to better match your goals. I always tell my clients it's knowing how the mind works then using that knowledge to make the mind work for you."
9. 

You Have To Want It To Work
Again, no one can be hypnotized against their will. These suggestions and moments of reprogramming only work if someone wants it to. "Everyone has the ability to go into hypnosis but three things have to be in place to make it happen: desire, you have to want to go into hypnosis; belief, you have to believe you can go into hypnosis; and safety, you have to feel safe in the environment you are in and with the person leading you," Blank says. "When all these things are in place hypnosis can happen."
If hypnotherapy is something you want to try, it may be well worth your time. While no one should expect to be "cured" in one session, going in with an open mind certainly can help.